Non-Clinical Careers for Physicians
Our mission is to provide our clients with the Skills Education Abilities and Knowledge to succeed.  SEAK created the annual Non-Clinical Careers Conference in 2003, as a way to help physicians explore the numerous non-clinical opportunities that are available to them. Since then, over 5,000 physicians have attended the conference and many of them have successfully transitioned to a full or part time Non-Clinical Career.
This is an eye opening and inspiring weekend where you can explore dozens of Non-Clinical Opportunities. Your biggest challenge after attending the conference will likely be deciding which of many possible roads to follow.
Non-Clinical Careers Conference Information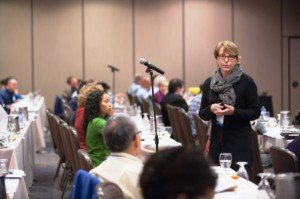 Twenty-two informative sessions led by physicians who have successfully transitioned. More Information >>
Interview for part time, full time and work from home opportunities in multiple industries. More Information >>
Personalized advice and guidance from our diverse panel of physician mentors. More Information >>
Unsurpassed networking opportunity during 4 provided meals, reception and at conference sessions. More Information >>
Find out what's out there, how to get it and how much it pays

Learn about full time, part time, and work from home opportunities.

Meet with employers and recruiters

See with your own eyes that switching to a non-clinical career has more financial potential than clinical medicine and is in fact a step forward, not a step backwards

Learn from numerous colleagues who have successfully made the switch and hear how it is done
Learn from numerous colleagues who have successfully made the switch and hear how it is done

Become empowered by knowing that you are far from alone in your desire for change

Network with faculty, speakers, mentors, recruiters and fellow attendees

Get your process of career change moving

Form a customized action plan to position yourself for and successfully make your career transition

An eye opening and inspiring weekend.
What Our Alumni Have To Say
"Hi Jim, I attended the SEAK conference in 2017 and it was life changing. Six months after the conference I started my new dream career as a Medical Strategy Lead with [large contact research organization] I hired a coach that I met at the conference, Philippa Kennealy, and she helped to guide me through the process."
"I did attend last year in Chicago and am now completely transitioned out of clinical practice into industry. I am a Medical Science Liaison working for [Big Pharma Company] in Women's Health. I also utilized the services of Michelle Mudge-Riley, as a career coach to help me transition, and I met her through your SEAK course!"
"Hi Jim! Wanted to say thanks for an ILLUMINATING weekend at SEAK! Had moments of clarity back at the clinical grind today—feeling more empowered than ever to leave the grind and follow my passions!"
"Excellent. I was amazed by the diverse group of consultants (41) and attending physicians (400) of all ages."
"The salary info was very helpful and also whether that type of position is open to part time or not."
"It was truly mind blowing and so eye opening as I had no idea what opportunities are out there. My goal is to slowly but surely begin to investigate some of the options as additional revenue streams. The course was very comprehensive and had excellent speakers and mentors and opportunities for networking. Thank you and I'll spread the word!"
"It was an overwhelming experience. I was impressed with so many options available for physicians."
"Thanks so much for four great days. It was incredibly educational and eye-opening. It really helped to crystallize where I want to go. I greatly appreciated all the various options."
"Thank you for organizing the conference. I most certainly found the conference useful. The networking opportunities were tremendous. What I found most appealing was the feeling of freedom that fellow attendees and I felt after hearing about the numerous opportunities available for those of us considering leaving clinical medicine. I am now excited and motivated to move forward."
"Thank you for having the conference! It was eye opening to say the least. (A bit overwhelming) It was packed with good information. So many things to think about."
"It was truly mind blowing and so eye opening as I had no idea what opportunities are out there."
"I attended the conference in 2017 and it opened my eyes to many career possibilities. I spoke with a gentleman from hospice and when I returned [home], I called our local hospice and there was a full time physician opening. I am happy to say, it's been 9 mo and I am so happy. I have found my dream job. I would like to help motivate others to have the courage to change careers. I can't thank SEAK enough!!"
"I attended SEAK last year and ended up with numerous opportunities and a few offers. I start working as a National [Specialty] Medical Director for _______ in 3 days. I credit SEAK for helping me find this position. All the offers came through LinkedIn, which I learned how to use at SEAK."
"Hello Jim. I loved your conference when I attended a few years ago. I replaced 75% of my clinical income by becoming President of the [Local] Medical Association (1 year, > $300k), serving on the board of [National] Medical Association, publishing a book, and most recently, becoming a senior fellow at a political think tank."
"I transitioned from clinical practice to the FDA as a medical officer August 2017. I attended seak fall 2016 and it helped me immensely gather the courage for this change which has significantly improved my life. I have since encouraged several colleagues to attend seak and am a big advocate of your program."
"I changed from my academic/clinical career to working for a contract research company. Although at a slight decrease in pay, the benefit is a "normal" 40-50 hour a week schedule with all weekends and holidays off. A first since I started working with my paper route at age 12! And going from 100+ hours a week to 50 is much more beneficial!"
"Thanks! I attended last year. I just landed my 1st non-clinical job, and all thanks to a connection I made at the SEAK conference."
"So thankful for you and SEAK for this positive life changing job. It all started with getting that flier in the mail for the "nonclinical careers for physicians."
"Thank you for putting on such a great conference. I was happy to learn of the world of opportunities out there for a career in nonclinical medicine. Your organization provides a unique window into these opportunities and has instilled me with hope and confidence. Keep up the great work."
"The meeting was off the chart for so many of us…. It has already helped me move beyond a new paradigm shift, to actively engaging strangers, networking, and relationship building skills. I appreciate the excellence and consistency that you and SEAK deliver. I will return."
"Thank you so much for organizing the conference, you are changing lives! I've already passed on the conference information to my other doctor friends…Thank you again, have a wonderful" day!
"It was an excellent conference, done so professionally, and with such a sincere effort to help me and my fellow physicians transition to a new career."
"Thank you for providing the participants (and me!) the wealth of knowledge and the tools to act. The stellar speakers, program, mentors and staff have provided the base for my next move."
"Thank you for all the time and commitment you give to this amazing conference. It was one the best one I have attended. A very empowering and enlightening experience. You are one of a kind."
"Excellent overview of available opportunities. It opened my eyes to opportunities I never knew existed. This is a good jumping off point for launching a job search."
"I will be joining Blue Cross Blue Shield as a Medical Director. I am certain that I would not have had the courage to make this leap without your help. The information that I gained over the three days that I attended your conference was invaluable. Thank you again."
"Jim, what you and Steve have created is really special and it was clear that the attendees appreciated the information as well as the experience of seeing they are not alone."
"I just wanted to THANK YOU for the eye-opening, informative conference in Chicago this weekend. One of the best, most helpful conferences I've ever been to!"
"Mr. Babitsky, I would like to thank you and Mr. Mangraviti for creating this conference. I do believe w/o this conference, I would still be wandering aimlessly and accomplishing nothing."
"Thanks to the entire SEAK team for providing excellent content for meaningful action at the annual conference. This event was life changing!"
"Thanks for putting on a great conference two weeks ago in Chicago. I was concerned about spending that much money, but it was definitely worth it. I came to the conference exhausted, looking for a change due to many negative feelings about my current position; I left invigorated and optimistic for my future."
"I did thoroughly enjoy the conference. I was so encouraged by the stories and the people I encountered this weekend. This conference is truly a wonderful service that you provide."
"The conference was great. The advice that you and Jim provided has motivated me to take action to improve my professional situation; sometimes overcoming the inertia can feel oppressive. In addition, I connected with a few like-minded individuals attending the conference, which was reassuring. Thank you both for dedicating your careers to this field."
"Thank you Steve. I was very impressed how you and your company really understood the needs of physicians and addressed them responsibly and with integrity."
"The conference was awesome! I think having mentors was one of the most valuable and unique features. I am planning to attend the Expert Witness session in February, and looking forward to getting the book "A-Z", in the mail soon! Thanks for the opportunities and for doing things so well."
"I am glad I finally decided to attend after thinking about it the past few years. It was a great conference and opened my eyes to new possibilities. I appreciate all your work to put on an amazing conference."
"Dear Steve and Jim, I wanted to thank you again for an amazing conference. I admire your ability to create an environment where attendees were willing to share their dreams. I look forward to seeing you in February."
"Invaluable. The contacts and ability to network was priceless. It reassured me and also energized me and catapulted me into action."
"Very well done. I felt lost prior to the conference and I now believe I can start to see a path to take toward improving my life."
"Welcoming atmosphere with multiple, available and variable non-clinical opportunities and ideas presented in a realistic manner."
"I appreciate tremendously what you have put together to assist those of us looking for direction in transition. The conference was perfect for my needs and I have benefited immensely already. It gave me tools that I would have had difficulty collecting in such a short period of time if at all."
"I am very glad I finally came – I was a bit nervous but then when I saw all the other docs from various specialties I felt so validated – loved hearing all the personal stories of both participants and speakers. Also probably one of the few conferences I've been to with physicians where they actively talked to each other."
"This was one of the most rewarding conferences that I have attended and it was time and money very well spent."
"I cannot express to you in words how enjoyable and exciting the conference was! You are not only a caring person, but a class act, and I hope other realized that that's your true essence."
"Fantastic, enlightening. I feel that I am ahead of the game and more aware of my potential outside medicine."
"Thanks to you I now have a job with [Company Name] (whom I met at one of your conferences). I am doing remote neuromonitoring (I am a neurologist), and make enough money that I no longer need extra income. It is my ideal dream job and again I thank you."
"Just wanted to let you know that I am officially the new Medical Director at Johnson & Johnson/Ethicon/Mentor. I start at the end of March. I certainly owe a large part of this to your course, your advice, and you personally."
"Very inspiring and eye-opening. I wish I had known about all this many years ago"
"Very practical. I received more useful and practical information in two days than I found in 2 years of searching on my own."
SEAK Online Courses To Stream On-Demand
Supplemental Income For Physicians
Supplemental Income Opportunities for Physicians
The #1 rated expert witness directory – guaranteed referrals.
Guaranteed independent medical examination (IME) referrals since 1998.
Supplement your clinical income, reviewing charts/files from home.